2019 Merger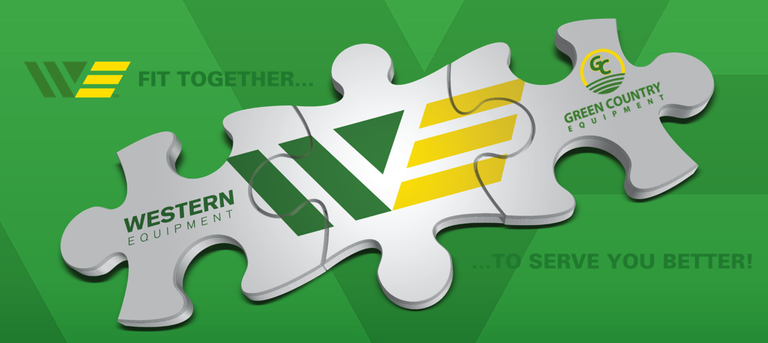 Green Country Equipment and Western Equipment have merged together to form a new company, effective October 1, 2019. The new company will operate as Western Equipment, LLC, with 21 dealership locations in Texas, Oklahoma and New Mexico. Both Green Country and Western Equipment had a reputation in the ag industry of doing business the right way and have been recognized as top John Deere dealerships in North America. The merger was a natural fit bringing together the Texas panhandle.
Western Equipment will still be locally owned and managed by the same ownership group. Every one of our employees will have a broader base of support to draw on to better serve you. Understanding Western Equipment's values, heritage, and customer-driven focus is vital to continue the growth we have experienced over the 103 years we have been in business. As a valued customer, we want you to know that you are our highest priority and we remain focused on fulfilling each and every one of your needs.
As a result of this merger, you can expect to receive enhanced service and support from Western Equipment, including:
A much larger selection of new and used equipment. This larger inventory will provide greater variety and faster availability to meet the specialized needs of agricultural, commercial, and residential customers.
An increase in both supply and demand of pre-owned equipment, resulting in better value for customers trading and buying. This benefit is enabled through our larger trade area, which includes more customer diversity.
Maintained relationships with your dealer representatives. We remain deeply involved in the communities we serve and focused on your individual needs and requirements. We are prepared to listen and deliver the best solutions for your needs.
Having the right part selection at each local store. Our parts professionals have visibility of the parts inventory for all 21 locations and the ability to secure those parts for immediate customer needs, making our company-wide inventory available to all customers.
Enhanced service capacity and efficiency to better support your operation, including more technicians in our shops and service trucks in the field.
A staff with more specialized training. Employee training will remain a top priority at Western Equipment, and the combined staff will allow for more localized training in a variety of areas, including agronomics, irrigation, trucking and service dispatch.
On behalf of the new Western Equipment, we want to welcome you to our family as we build on the best parts of both the Green Country and Western Equipment businesses. We're proud to have you as a valued and loyal customer.
The new Western Equipment will be comprised of 12 Texas dealerships in Amarillo, Childress, Dalhart, Dimmitt, Dumas, Floydada, Muleshoe, Olton, Pampa, Perryton, Plainview, and Spearman; eight Oklahoma dealerships in Altus, Alva, Boise City, Clinton, Guymon, Hobart, Weatherford and Woodward; and 1 dealership in Clovis, New Mexico.